I'm going to travel to Japan, but I want to save as much as possible on accommodation.
Mari
As a Japanese person living in Tokyo, I would be delighted to share some tips on how you can save money on hotels in Tokyo.
Tokyo is one of the most expensive cities in the world.
Hotel prices vary depending on holidays and busy seasons, but in the case of city hotels, the price is usually around 15,000 yen per night.
Here are three tips on how to get cheap accommodation in Tokyo.
Types of accommodation

Areas to stay

When to stay
We share them one by one.
Types of Accommodations
City Hotels
City hotels are generally located in the heart of the city, often in locations with stunning views. Twin rooms are what are usually on offer.  Tourists are the main target group as these hotels also offer spa treatments, swimming pools and on-site restaurants in addition to accommodation.
Rates: High
Business Hotels
Business hotels are often conveniently located in the downtown area or next to the train station. Rooms are mainly single rooms. Since they specialise in accommodation, businessmen on business trips are the main target.
Rates: Medium to high
Capsule Hotel
What is a capsule hotel?
A capsule hotel is a simple accommodation facility where you sleep in a capsule. Capsules are generally about 2 metres long, 1 metre wide, and 1 metre high, with a bed inside and no lock at the entrance.
Many capsule hotels have a shared floor where you can use the shower rooms, large bathrooms, and relaxation areas.
Capsule hotels have separate floors for men and women, and some hotels are for women only. So female guests can use them without any worries.
Rates: Low to Medium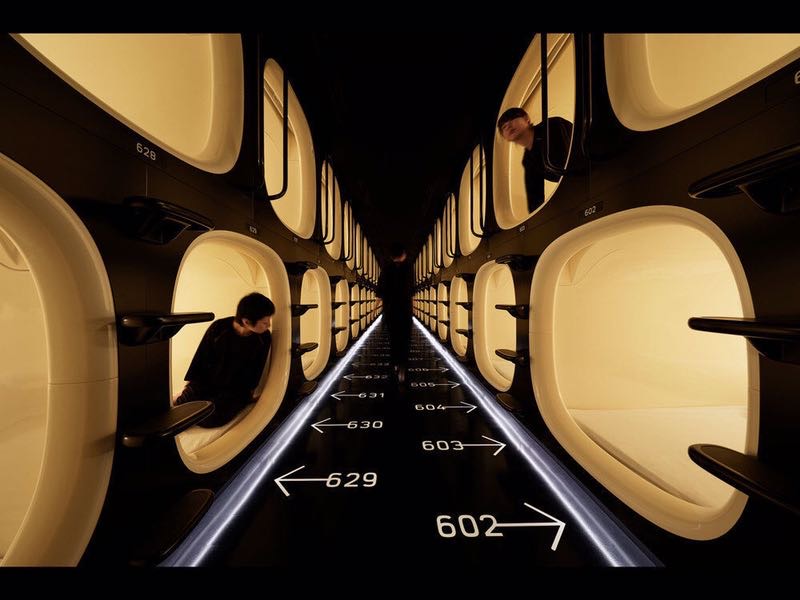 9Hours
Guesthouses
Inexpensive, no-frills accommodation that offer few or no amenities. You may be sharing a room with 4 to 10 people.
Rates: Low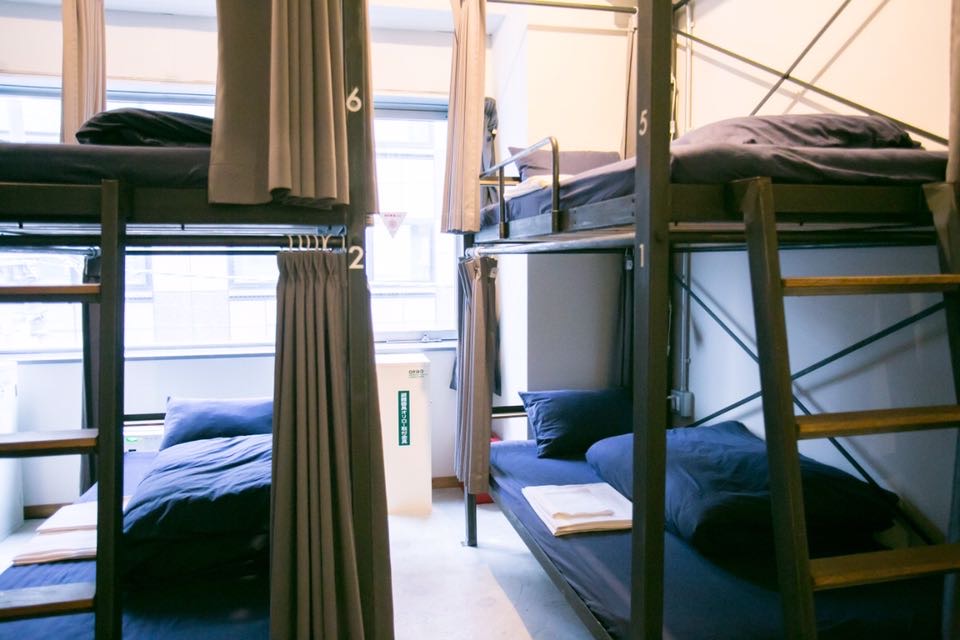 Airbnb
Recently, Airbnb in Japan has become much more regulated and many hosts have withdrawn their offers of accommodation. Be sure to communicate with your host carefully when booking a place via Airbnb.
Rates: Low to Medium
Night bus
Although not an accommodation, there is another way to save money when visiting Japan. Night buses leave in the evening or at night and arrives at a chosen destination in the morning. For example, if you take a night bus from Tokyo to Osaka, you can spend the night on the bus and arrive in Osaka when you wake up. You can save the cost of one night's accommodation. There are some comfortable night buses nowadays, so check them out.
Rates: Transfer Fee Only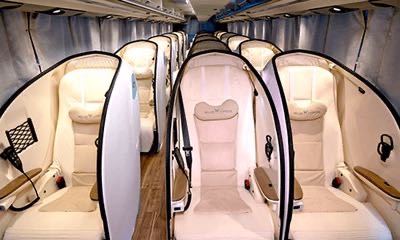 Area
The more central the city the hotel is, the more expensive it becomes. Its easy to think that inside of JR Yamanote Line (Red circle) is the central.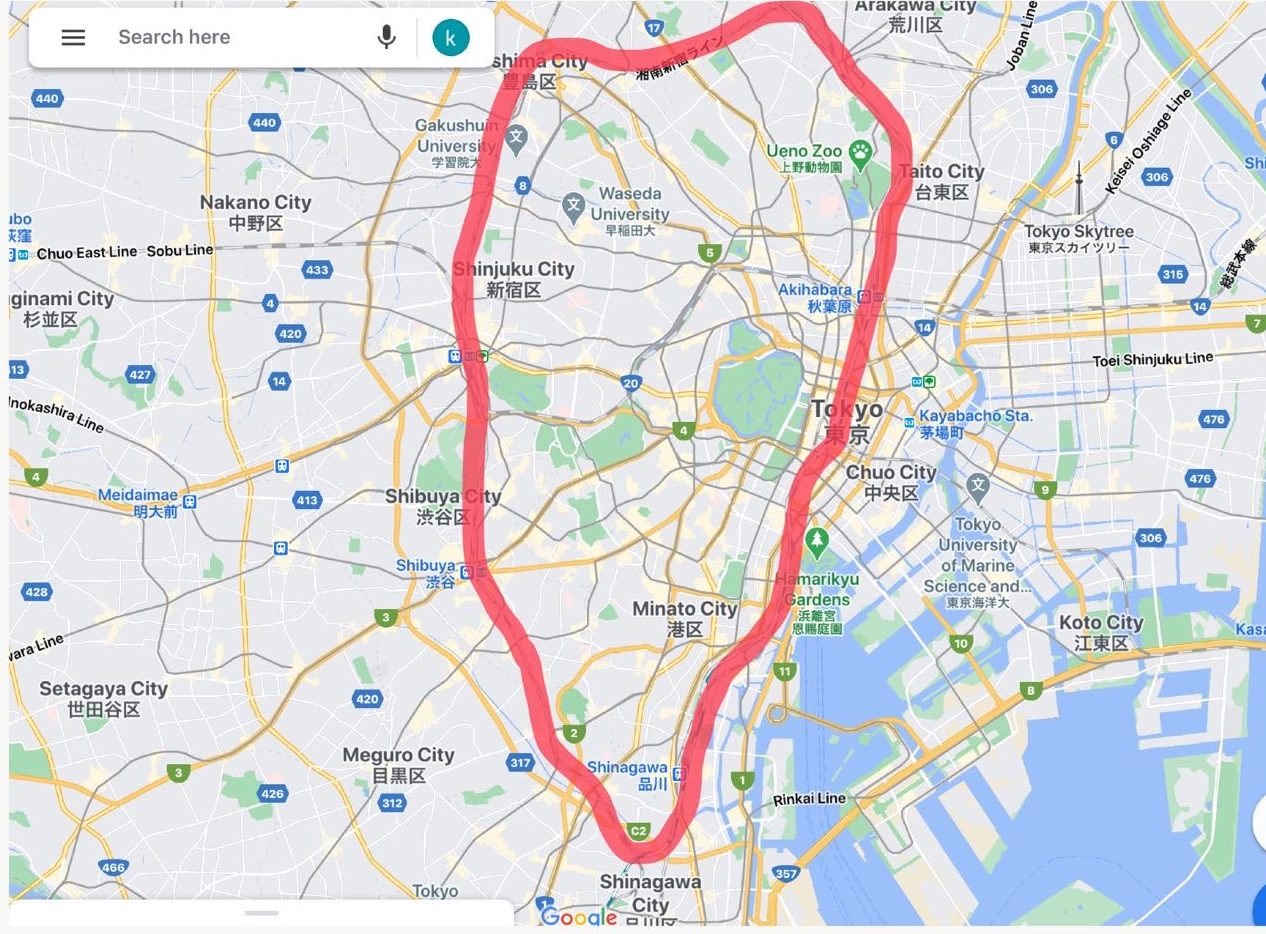 When choosing an area, you may want to think about which area best suits your needs. If you want to go out drinking in Shinjuku at night, then your accommodation should be close to Shinjuku or somewhere nearby so that you can get back from Shinjuku without having to change trains.
If you're not keen on spending your nights out on the town, then you can stay in the suburbs. There are good train services in Tokyo and nearby areas, meaning you can get to the city centre in just a few minutes even from the suburbs. The best place to go is along the Sobu rapid Line. You can get to Tokyo station in 20 minutes from Ichikawa station in Chiba prefecture, for example.
When to stay
Hotel rates are generally higher on weekends and holidays and the day before. If you plan to visit other parts of Japan, it is advisable to stay in other areas on weekends and holidays and on weekdays in Tokyo because Tokyo's accommodation prices are the highest in Japan.
See below for a graph of Japanese holidays.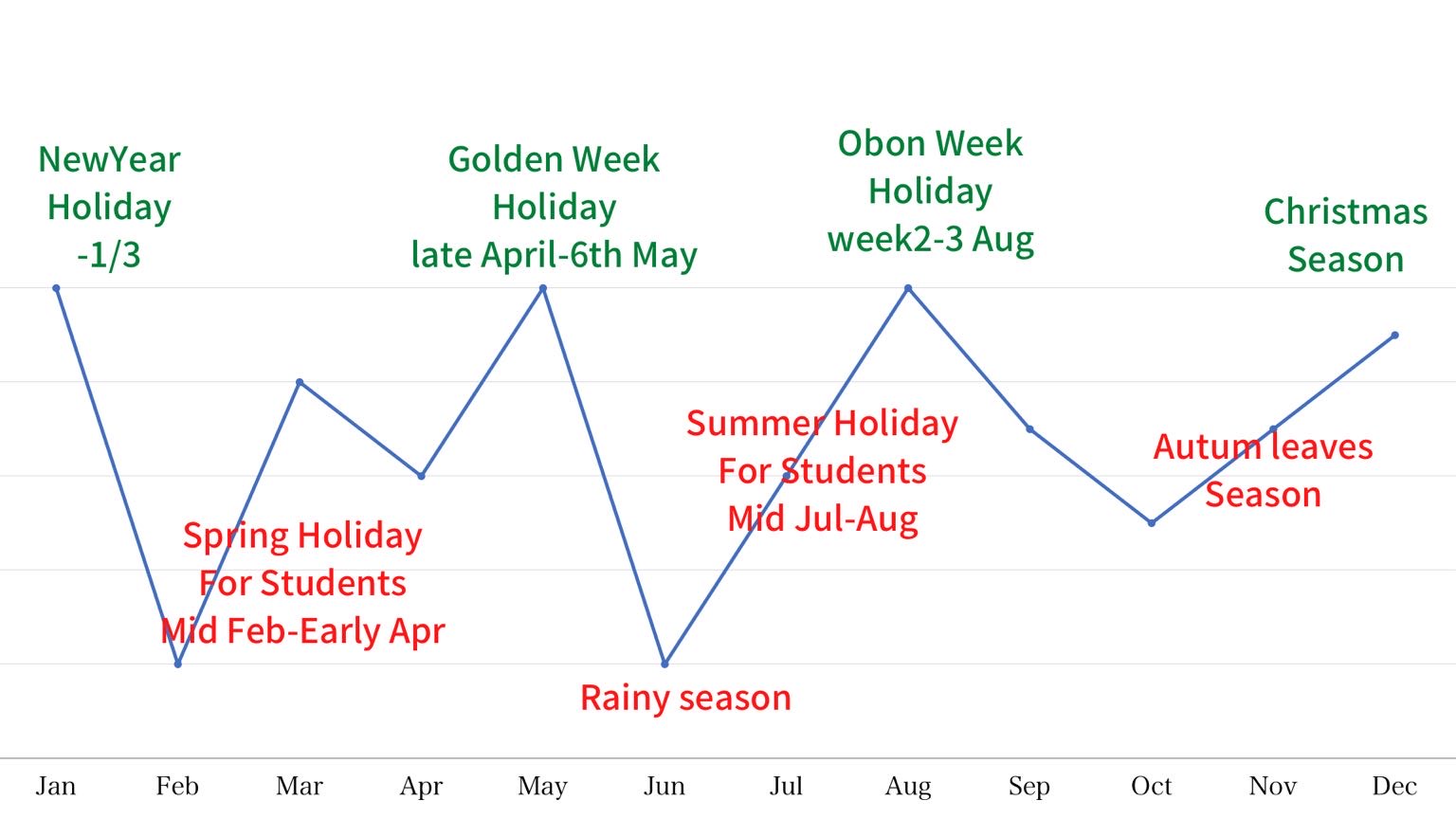 Even on weekdays, prices are higher from late July to August and March, when Japanese summer and spring holidays are in full swing. If you can choose the time of the year, you should avoid those seasons. Flight tickets are also very expensive during these holidays.
With a little effort, you can save a lot of money on your accommodation. Japan has plenty of great food, culture and nature for you to enjoy. You can also save some money on accommodation and enjoy food and cultural experiences.