Discord Community for Japanese learners!
↓
Check SAKURA Community
にほんご・English
みなさん、こんにちは。
SAKURA TIPSは、日本語リスニングのPodcastです。
————————–
今日のテーマはコロナについてです。
私は先日ですね、初めてコロナウィルスにかかってしまいました。
最初はちょっと調子が悪いなぁと思っていました。
朝起きたときに、少し体調が良くないなと思いました。
でもそれは疲れているのかなと思っていました。
熱を測っても、いつも通り平熱でしたので、まぁ疲れているから、今日の夜はゆっくり休もうかなと思って、いつも通り過ごしていました。
ですが、移動したり何かをしたりすると、やっぱりいつもと違うなぁと思いました。
そして午後もう一度熱を測ってみると38度くらいの熱がありました。
なのでその日はずっと寝ました。
その間も熱は下がらずに、1番高い時で39度の熱があった時もありました。
ですが、熱の割には元気で、まぁ体はしんどいんですけれども、39度ある割にはシャワーも浴びれたしという感じで、そこまでそんなにひどいものではなかったです。
熱は二日間あって、3日目からは平熱に戻りました。
ただずっと続いているのは、咳と痰ですね。
これは今も続いています。
それ以外は良くなりました。
ご飯もしっかり食べれるし、仕事もできています。
ですが、あまり無理をするとまた体調が悪くなってもいけないので、ここ1週間はいつもよりは、ゆっくりと過ごそうかなと思っています。
私は今までコロナウイルスにかかったことがなかったので、今回はじめての経験でした。
初めて経験して、まぁ誰でもかかる可能性はあるなと思いました。
ですが、無事回復をしていて安心しました。
皆さんも注意しながら、コロナウイルスにかからないように注意しながら、過ごして欲しいなと思います。
Today's topic is about COVID-19.
The other day, I actually caught the coronavirus for the first time. At first, I just thought I wasn't feeling well. When I woke up in the morning, I felt a little off. But I thought it might just be because I was tired. Even though I took my temperature and it was normal as usual, I decided to take it easy and rest tonight because I might just be tired. So I spent the day like usual.
However, when I moved around or did something, I still felt different from usual. Then, when I checked my temperature again in the afternoon, I had a fever of about 38 degrees Celsius. So I stayed in bed all day. Even though my temperature didn't go down and at one point, it went up to 39 degrees, I still felt pretty energetic. Although my body was tired, I was able to take a shower despite having a fever of 39 degrees. So it wasn't that bad.
I had a fever for two days, but by the third day, I returned to normal. The only thing that has persisted is coughing and phlegm. It's still ongoing. But other than that, I'm feeling better. I can eat properly and go to work. However, I can't push myself too hard because I don't want to get sick again. So I plan to take it easy for the next week.
I had never caught the coronavirus before, so this was my first experience. After experiencing it, I realized that anyone could catch it. But I'm relieved that I have recovered.
I hope everyone takes care and stays safe from COVID-19.
————————–
それでは、今日はこのへんで終わりにしようと思います。
If you want to help us continue to create podcast like these, please consider making a small monthly contribution at SAKURATIPS.com
You can get Japanese charts twice a month.

Check the description box. 
じゃあ、またね〜
Want to learn Japanese more?
■<Free> NewsLetter for Japanese Language Learners
<Special gift!>
Japanese Vocabulary Sheets
Japanese Language Charts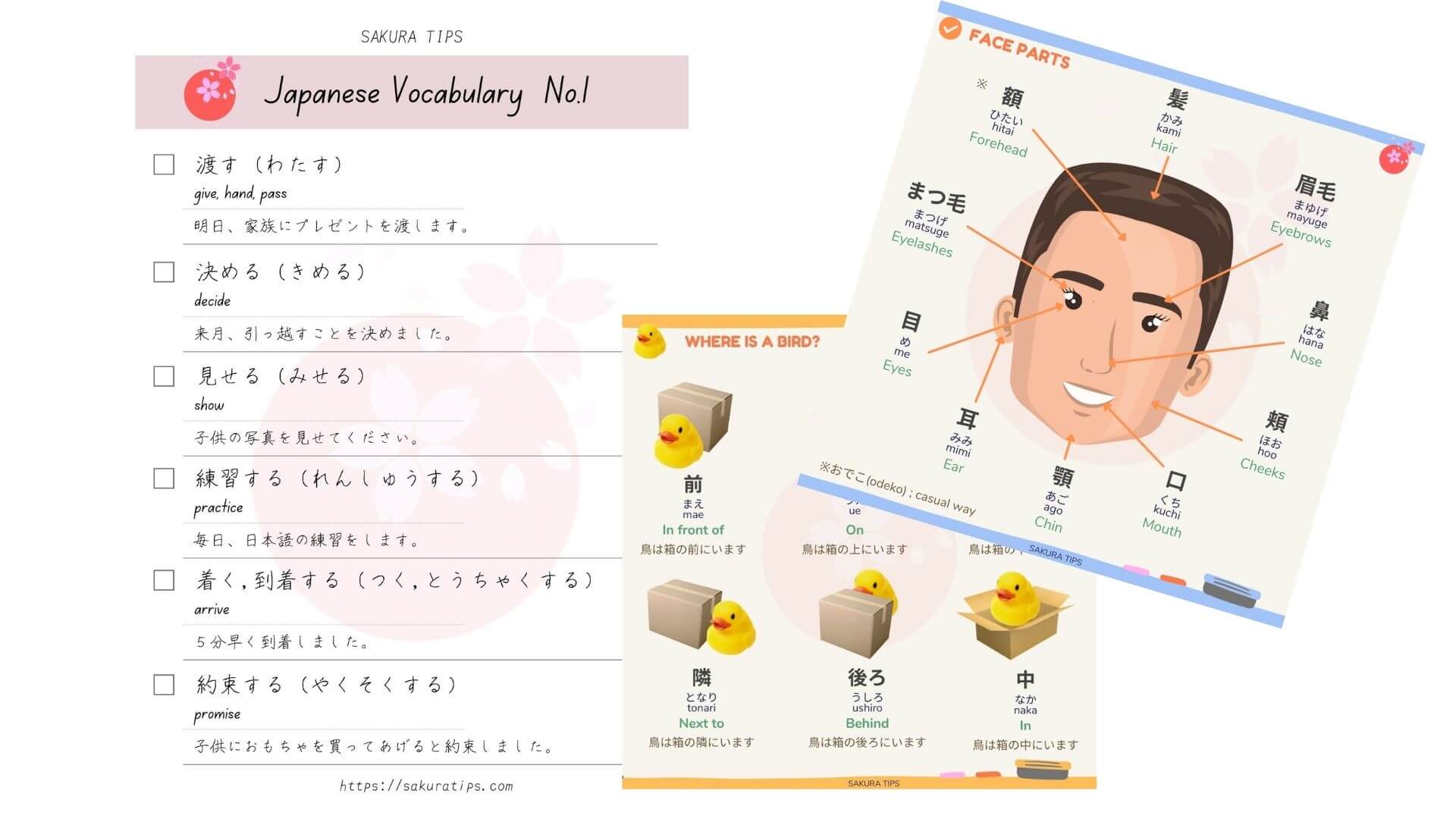 <FREE> Get Japanese Language Tips