Discord Community for Japanese learners!
↓
Check SAKURA Community
にほんご・EN
みなさん、こんにちは。
SAKURA TIPSは、日本語リスニングのPodcastです。
————————–
今日のテーマは歴史を学ぶについてです。
私は最近歴史をよく勉強しています。
勉強しているといいますか、興味が湧いてきて、そしていろいろな本を読んでいます。
私が今興味があるものは、日本の歴史ではなく、世界で何が起こったかということです。
私が興味を持ち始めたきっかけというのが、コロナウイルスにかかってしまって、そしてもう寝ている間とか外に出れないので、その時に時間がたくさんできました。
そしてなんとなくYouTubeを見ていたら、その、まずは中東地域の歴史というビデオが出てきました。
それを見ると、興味が湧いてきて、そしてもっといろいろなことを知りたいと思って、中東地域やヨーロッパで何が起こったのかということですね。
勉強し始めました。
そして、歴史を学んでいくと、そこには必ず宗教の問題もあります。
歴史を学ぶ上で、宗教の知識がなければあまり深く知ることができないと気が付きました。
なので、今度は宗教について勉強もしています。
ユダヤ教、キリスト教、イスラム教、これらは日本ではあまりなじみがありません。
なので、全てが新しくてとても興味が湧いてきました。
そしてそれを勉強していると、もっといろいろなことを知りたいと思うようになりました。
勉強しているとどんどん新しい言葉が出てきます。
その新しい言葉を調べると、また新しい言葉が出てきます。
このような感じで、どんどん知識を広げていきたいなと思います。
歴史を調べる中で、イスラム教にも、知識を少しずつ得てきました。
今月末から海外旅行に行くんですけれども、ちょっと飛行機の乗り換えがあるトルコに行ってみたいなと思っています。
モスクとかちょっと見てみたいですね。
そんな感じで私は今歴史をそして宗教を勉強しています。
皆さんは今、何かに興味を持って勉強していますか?
Today's topic is about learning history.
Recently, I've been studying history a lot. Or should I say, I've been getting interested in it and reading various books. What interests me now is not just Japanese history, but what happened in the world.
The trigger that got me interested was when I got infected with the coronavirus and couldn't go out or do anything else. I had a lot of free time, so I started watching YouTube videos. I came across a video about the history of the Middle East, which piqued my interest. I wanted to know more about what happened in the Middle East and Europe, so I started studying it.
As I studied history, I realized that there are always religious issues involved. Without knowledge of religion, it is difficult to understand history deeply. So, I am also studying religion now. Judaism, Christianity, and Islam are not very familiar in Japan, so it is all new and interesting to me. As I study, I want to know more and more.
When studying, new words come up quickly. When I look up those new words, more new words come up. I want to expand my knowledge like this.
In my research, I have also gained some knowledge about Islam. I am planning to travel abroad at the end of this month and I want to visit Turkey, where there is a layover on the flight. I want to see mosques and things like that. That's how I am studying history and religion now. What are you interested in and studying now?
————————–
それでは、今日はこのへんで終わりにしようと思います。
If you want to help us continue to create podcast like these, please consider making a small monthly contribution at SAKURATIPS.com
You can get Japanese charts twice a month.

Check the description box. 
じゃあ、またね〜
Want to learn Japanese more?
■<Free> NewsLetter for Japanese Language Learners
<Special gift!>
Japanese Vocabulary Sheets
Japanese Language Charts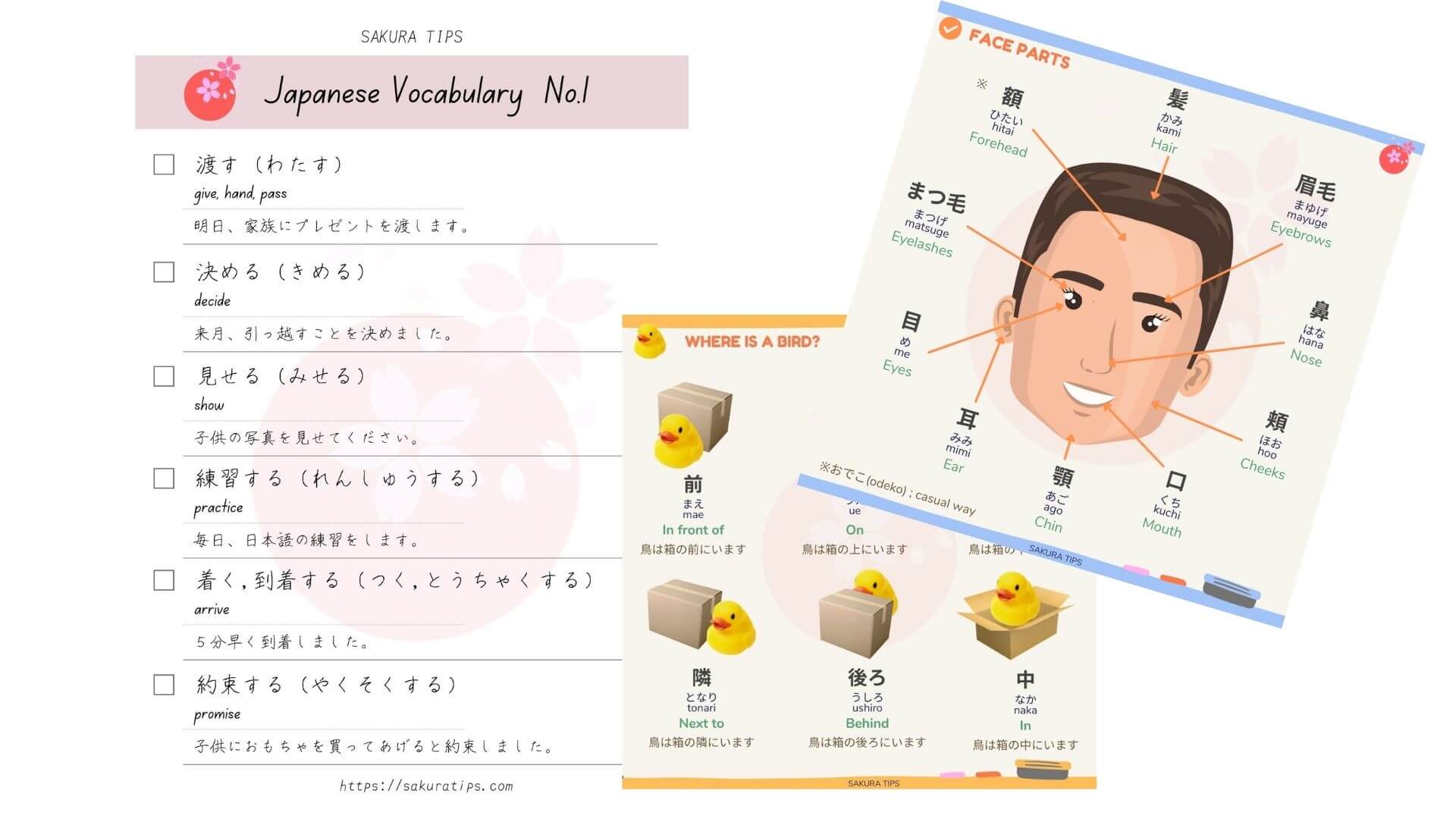 <FREE> Get Japanese Language Tips