Discord Community for Japanese learners!
↓
Check SAKURA Community
にほんご・EN
みなさん、こんにちは。
SAKURA TIPSは、日本語リスニングのPodcastです。
————————–
今日のテーマは花粉症についてです。
日本では、特に春になると、花粉症で苦しむ人が増えます。
花粉症はいちど発症してしまうと、その次の年も、そのまた次の年も、ずっとですね。
こう、、花粉の季節になると鼻水が出たり、くしゃみが出たりして涙が出たり目がかゆくなったり、眠くなったりといろいろな症状が出ます。
私は花粉症ではありません。
ですが、今年は違います。
今年は10年に1度というか、ここ10年で1番花粉の量が多い年となりました。
そして私は花粉症ではありませんが、そんな私でも、目がかゆくなったりします。
だから今年は、本当に花粉の量が多いんだなと思っています。
花粉の量が多くなるのは、夏の天気に関係しています。
夏雨が少なく、太陽の出ている時間が長いと、その次の春は花粉が多くなるということが分かっています。
去年の夏は雨が少なく、太陽が長い時間出ていました。
なので、今年は花粉の量が多いです。
花粉を出しているのは、この花粉症の大きな原因となっているのは、杉という木です。
なんで日本には杉の木が多いかというと、第二次世界大戦World War IIですね、その後、多くの家が壊れてしまいました。
なので、その家を新しく立て直すために、たくさんの木が必要でした。
なので日本はですね、杉の木をたくさん植えました。
そして今、その杉の花粉に苦しんでいます。
そのために今日本では杉の木を切ろうとしています。
ですが、その木を切る人手があまりないということ、そして一気に木を切ってしまうと、土砂災害などの災害を起こしてしまうこともあって、なかなか進んでいません。
いろいろな問題があって、花粉症がまだまだあるのですが、100年後位には花粉症がなくなって、そして未来の子供たちが、春も元気で過ごせるんじゃないかなと期待しています。
他の国には花粉症はあるんでしょうか?
また教えてください。
Today's topic is about pollen allergies.
In Japan, many people suffer from pollen allergies, especially in the springtime. Once you develop pollen allergies, you will experience symptoms such as a runny nose, sneezing, watery eyes, itchiness, and fatigue every year during the same season.
I don't have pollen allergies myself, but this year is different. It's said to be the year with the highest pollen count in the past decade, occurring once every ten years. Even I have experienced some eye itchiness this year, which made me realize just how bad the pollen situation is. The amount of pollen is affected by the weather during the summer months. When there is less rain and longer sunshine hours during summer, there tends to be more pollen during the following spring.
Last summer, we had less rain and longer sunshine hours, leading to a higher pollen count this year. The main cause of pollen allergies in Japan is the sugi tree. Japan has many sugi trees because after World War II, many houses were destroyed and needed to be rebuilt, which required a lot of wood. Therefore, many sugi trees were planted in Japan.
Now, we are suffering from the pollen produced by the sugi trees, so Japan is planning to cut them down. However, there is a shortage of people to cut down the trees, and cutting them down all at once could cause disasters such as landslides. Therefore, the process is progressing slowly.
Although there are many issues to address, I hope that in about 100 years, pollen allergies will be a thing of the past, and future generations can enjoy a healthy spring season. Do other countries have pollen allergies? Please let me know.
————————–
それでは、今日はこのへんで終わりにしようと思います。
If you want to help us continue to create podcast like these, please consider making a small monthly contribution at SAKURATIPS.com
You can get Japanese charts twice a month.

Check the description box. 
じゃあ、またね〜
Want to learn Japanese more?
■<Free> NewsLetter for Japanese Language Learners
<Special gift!>
Japanese Vocabulary Sheets
Japanese Language Charts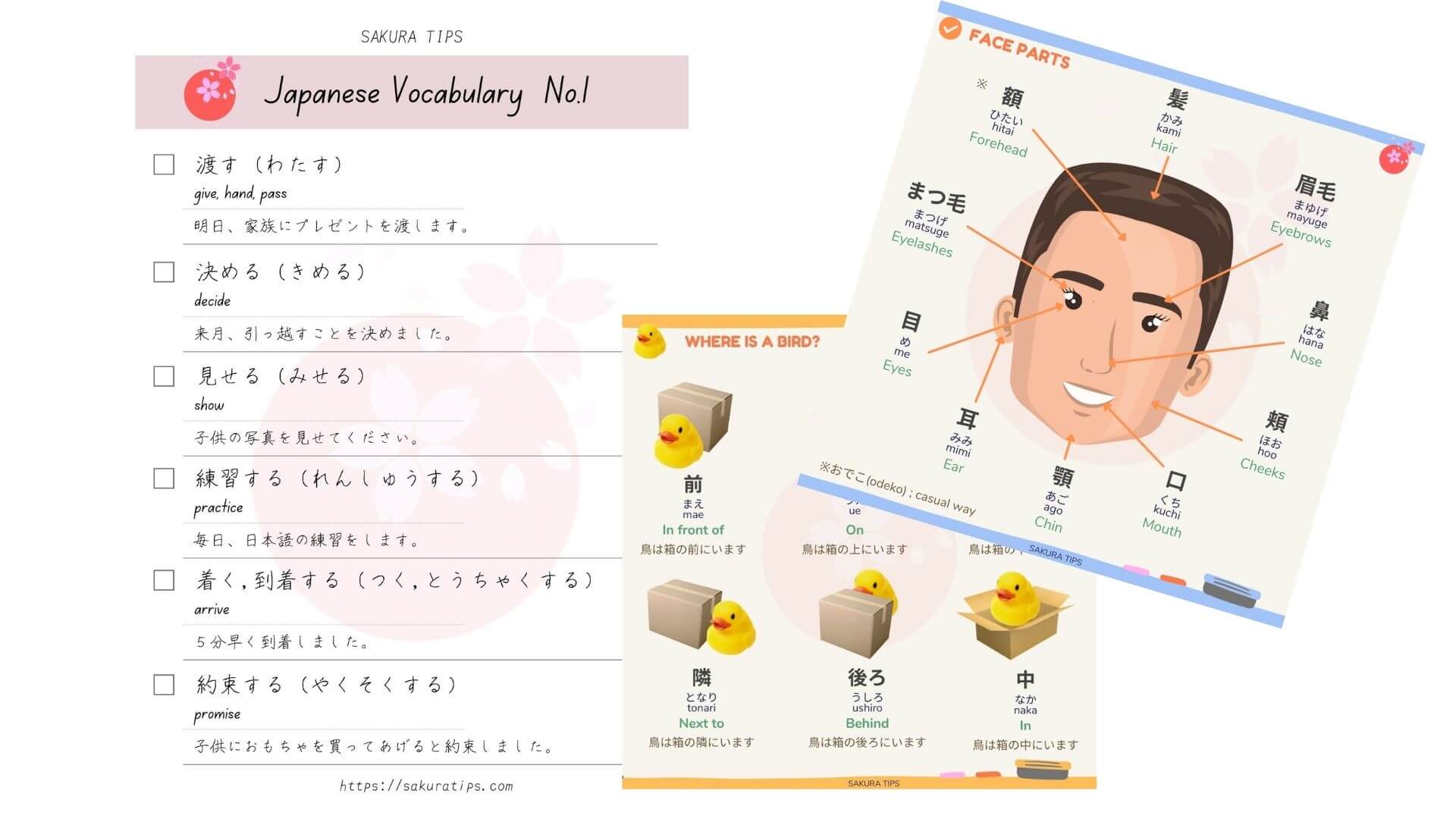 <FREE> Get Japanese Language Tips