596(mp3)
Discord Community for Japanese learners!
↓
Check SAKURA Community
にほんご/EN
みなさん、こんにちは。
SAKURA TIPSは、日本語リスニングのPodcastです。
————————–
今日のテーマはマスクについてです。
日本では3月13日から、外でも屋内でもマスクをつけなくていいですよというルールに変わりました。
これは日本の政府が決めて、そして日本に住んでいる人に呼びかけをしています。
それまでのルールは、外ではマスクをつけなくていいんですけれども、例えば外ではないところ、駅や電車の中、お店の中、オフィスの中とか、そういう場所ではマスクをつけましょうというルールになっていました。
ですが、3月13日以降は、マスクをつけなくてもよく、自分の好きなようにしていいですよと変わりました。
そして昨日ですね、私はマスクのルールが変わってから、初めて会社に行ったり、買い物に行ったりしたのですが、みんなマスクをつけていました。
ほぼ全員ですね。
なので何も変わっていないなと思いました。
これはもちろん3月13日になったからといって、コロナウィルスにかかりにくくなったというわけではありません。まだまだ心配だと思う人も多いのかなと思います。
あとはそれだけではなく、日本の3月は花粉症にかかっている人が多いです。
花粉が多いので、その花粉が鼻に入ってくるのを防ぐために、マスクをしている人も多いです。
コロナウィルスが始まる前から、3月は花粉症対策で、たくさんの人がマスクをしていました。
なのでそういうこともあって、いまだに日本ではほぼ100%の人がマスクをつけています。
もうアメリカとかヨーロッパでは誰もマスクをつけていないと聞きました。ただ、先週台湾に旅行に行った私の同僚は、台湾でもほぼ100%の人がマスクをつけていたと言っていました。
元々、日本人はコロナウィルス関係なく、マスクをする習慣があります。なので特にマスクに対する抵抗感というか、マスクつけたくないなぁという気持ちも少ないのかなと思います。
皆さんの国ではどうですか?
マスクはもうつけていないですか?
それともまだまだつけていますか?
Today's topic is about masks.
In Japan, the rule has changed since March 13th, where you don't have to wear a mask outdoors or indoors anymore. This was decided by the Japanese government and they have been calling on people living in Japan to follow this new rule. The previous rule was that you didn't have to wear a mask outdoors, but you should wear a mask in places like train stations, trains, shops, and offices.
However, since March 13th, it has changed to where you don't have to wear a mask and you can do what you like.
Yesterday, I went to work and went shopping for the first time since the mask rule changed, but everyone was still wearing masks, almost everyone. So, I thought that nothing had really changed. Of course, just because it's March 13th doesn't mean you're less likely to catch the coronavirus. I think many people are still worried.
In addition, many people in Japan suffer from hay fever in March. Since there is a lot of pollen, many people wear masks to prevent the pollen from entering their nose.
Even before the coronavirus started, many people in Japan wore masks in March as a hay fever countermeasure. So, for that reason, almost 100% of people in Japan still wear masks.
I heard that no one wears masks in America or Europe anymore. However, my colleague, who traveled to Taiwan last week, said that almost 100% of people in Taiwan were still wearing masks.
Japanese people have had a habit of wearing masks regardless of the coronavirus. So, I think there is less resistance or feeling of not wanting to wear masks in particular.
How about in your country? Are you not wearing masks anymore? Or are you still wearing them?
————————–
それでは、今日はこのへんで終わりにしようと思います。
If you want to help us continue to create podcast like these, please consider making a small monthly contribution at SAKURATIPS.com
You can get Japanese charts twice a month.

Check the description box. 
じゃあ、またね〜
Want to learn Japanese more?
■<Free> NewsLetter for Japanese Language Learners
<Special gift!>
Japanese Vocabulary Sheets
Japanese Language Charts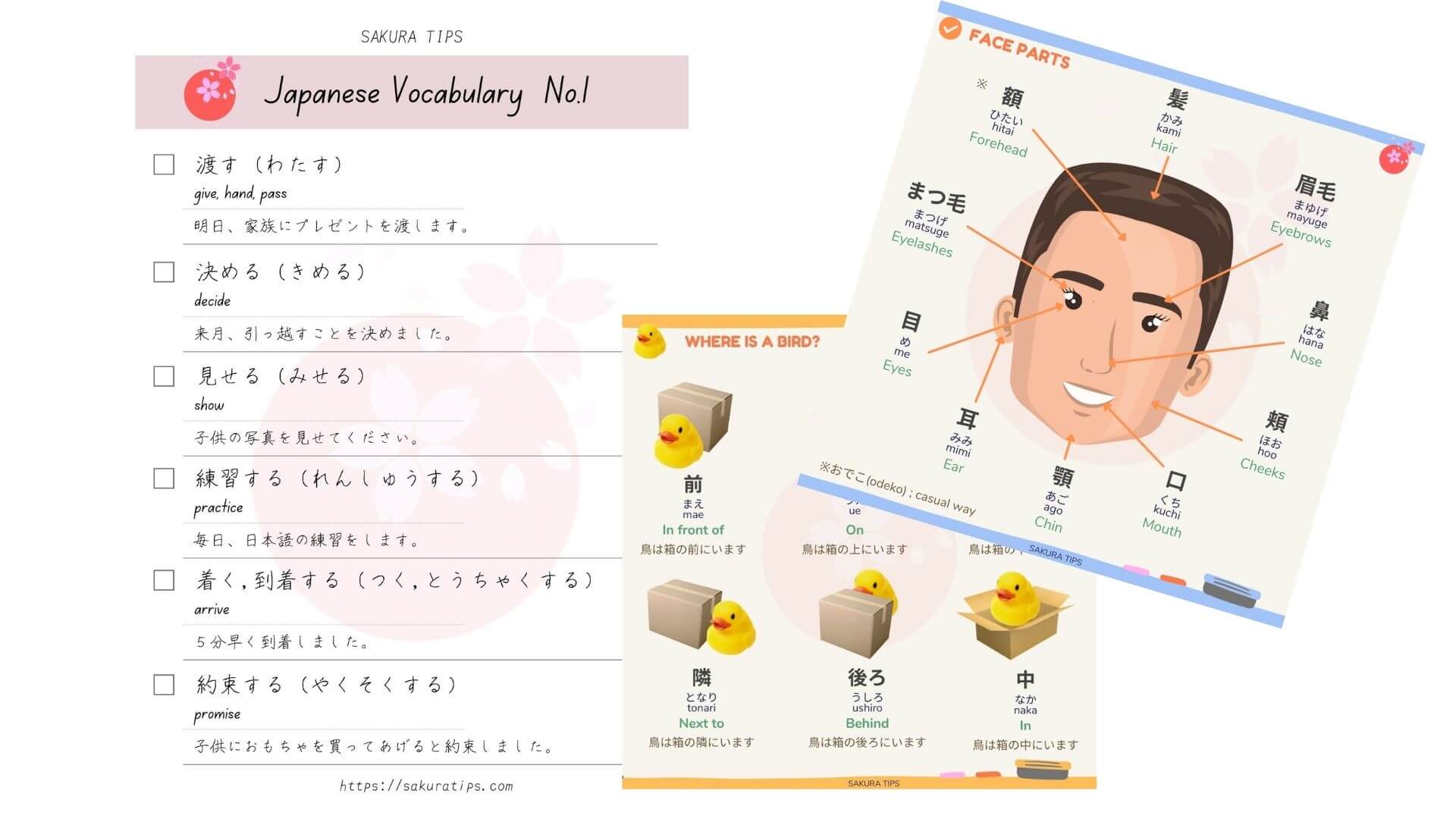 <FREE> Get Japanese Language Tips