Discord Community for Japanese learners!
↓
Check SAKURA Community
にほんご・EN
みなさん、こんにちは。
SAKURA TIPSは、日本語リスニングのPodcastです。
————————–
今日のテーマは年度終わりについてです。
4月はですね、1年の始まりです。
日本では、4月から3月を1つの年度、1年として考えます。
つまり学校は3月に卒業式があって、4月に次の学年になります。
そして学校だけではなく、多くの会社が3月で1度、年度が終わって、そして4月から次の年度が始まります。
なので、日本では3月にたくさん引っ越しがあります。
大学に行く人、そして会社では人事異動も3月にたくさんありますので、3月はお別れの季節というふうにも言われています。
私の会社でも3月に、4月1日で人事異動がたくさんあります。
そして私のチームでもその4月から新しいチームに行く人がいます。
その人たちとフェアウェルパーティーですかね。日本では、まぁ送別会というふうに呼びます。
その送別会を計画しています。
残念ながら私はその日に用事があって行けません。
ですが、計画だけは参加しようかなと思って今計画をしています。
4月から3月を1年と考えるという習慣は、日本以外ではあまり聞きません。
もしかしたら他の国でもあるのかもしれませんが、日本では私が生まれた時から4月に始まって3月に終わるというふうに思っています。
なのでそれが当たり前になっていますね。
そして4月は多くの人が新しい生活を始めます。
なのでこの春という季節はですね、不安とか寂しさもあるけれども、新しい環境に行く楽しみな気持ちでワクワクがある季節です。
私は4月以降特に生活は変わりませんが、周りが変わるので、それも楽しみにしたいと思います。
Today's topic is about the end of the fiscal year.
In Japan, April marks the beginning of a new year. The Japanese consider the period from April to March as one fiscal year. For instance, schools hold graduation ceremonies in March, and students move on to the next grade in April. Not only schools, but many companies also end their fiscal year in March and begin a new one in April. Consequently, there are many moves in Japan in March. March is also known as a season of farewells because there are many job transfers in companies and university students move on to their next phase in life in March.
In my company, there are many job transfers on April 1st. In my team, some people will be moving to a new team from April. We are planning a farewell party for them, which is called "Soubetsukai" in Japan. Unfortunately, I cannot attend the party because I have something else to do that day. However, I am helping with the planning.
Considering April to March as one year is a custom that is not widely observed outside of Japan. It may be common in other countries, but I have always thought that it starts in April and ends in March since I was born in Japan. Therefore, it has become the norm. Many people start a new life in April. Thus, spring is a season that brings both anxiety and excitement for starting a new environment.
Although my life does not change significantly after April, I am looking forward to seeing how people around me will change.
————————–
それでは、今日はこのへんで終わりにしようと思います。
If you want to help us continue to create podcast like these, please consider making a small monthly contribution at SAKURATIPS.com
You can get Japanese charts twice a month.

Check the description box. 
じゃあ、またね〜
Want to learn Japanese more?
■<Free> NewsLetter for Japanese Language Learners
<Special gift!>
Japanese Vocabulary Sheets
Japanese Language Charts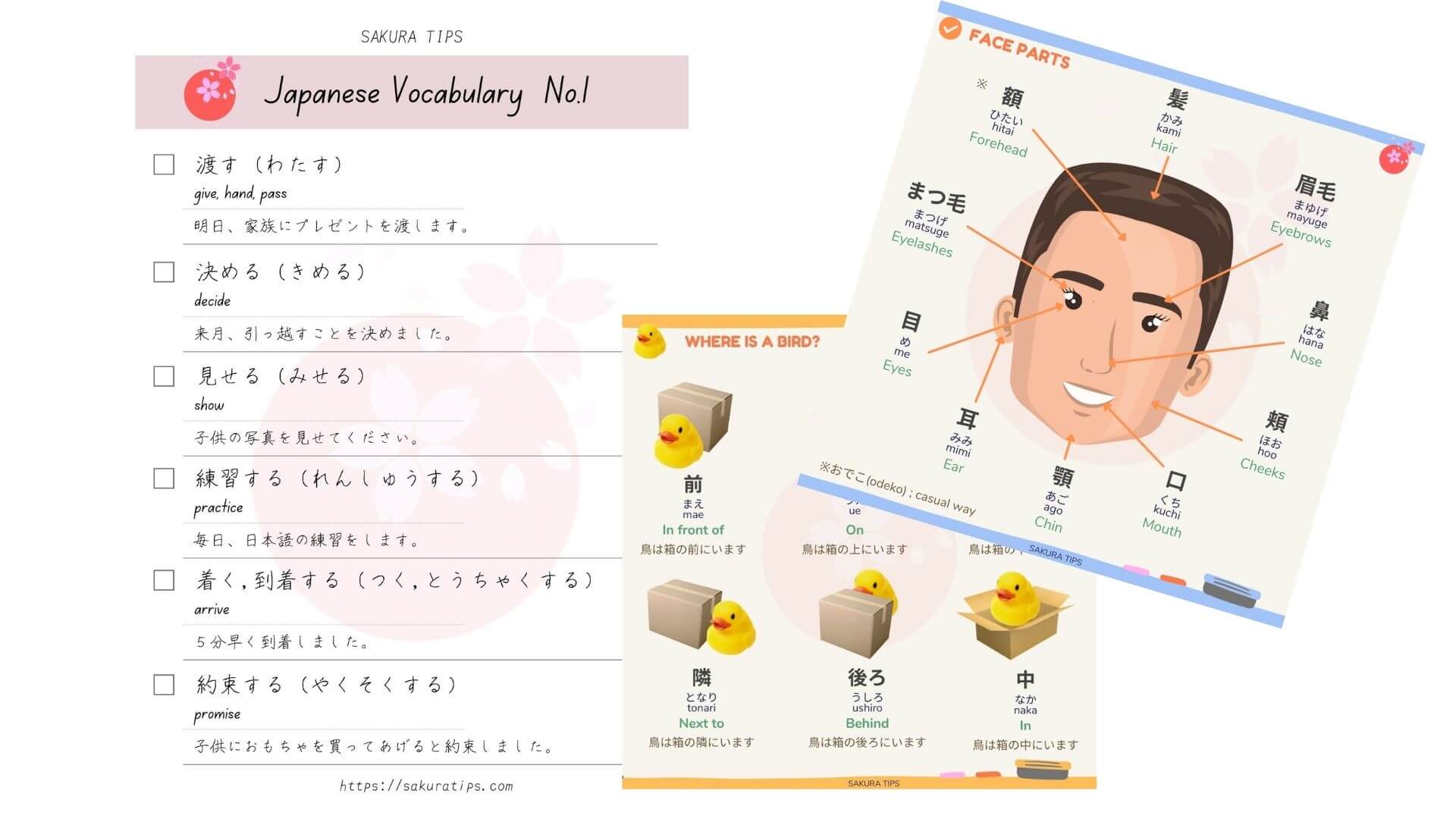 <FREE> Get Japanese Language Tips