Curry is a world-famous dish that originated in India. Curry was introduced to Japan by the English Navy in the nineteenth century. Since then, Japanese curry has evolved into a unique dish that comes in a number of different varieties. It's no exaggeration to say that curry is now one of Japan's 'traditional' home cooked dishes. Indian curry is often served as a sauce added to naan or rice. In Japan, curry is also served as asauce poured over rice and called "curry rice".
If you want a taste of Japanese curry rice, we recommend "CoCo Ichibanya" (also known as called COCOichi), a chain of restaurants specializing in curry. CoCo Ichibanya has the largest number of chain restaurants in Japan. In 2013, it was registered in the Guinness Book of World Records as the "Largest Curry Restaurant Chain". There are more than 1,000 restaurants across Japan, so you can definitely find it in any city. The prices are very reasonable as well. Local Japanese people frequently go there.

HOW TO ORDER
If you visit, please be aware that the ordering system is a bit complicated. Similar to ordering a customized sandwich at subway, you have to specify and order each of the following.
Quantity of rice
Type of Curry Sauce
Spiciness and Sweetness
Toppings
1. Choose Type of Curry Sauce
There are 5 kinds of curry sause
Pork Curry
Sweet Pork Curry
Beef Curry
COCOICHI Vege Curry
Hashed Beef

2. Choose Quantity Of Rice
「regular size」is 300g. You can also reduce it to 200g, or increase it in every 100g increments with no upper limit. Of course you can have the appropriate amount of sauce poured over for you.

3.Choose Spiciness and Sweetness
You can choose from "sweet", "normal", "1 spicy", "2 spicy"…and up to "10 spicy". However, you can't order 6 spicy or higher unless you've had 5 spicy before. Of course, we don't recommend more than 6 spicy dishes because the spiciness is unimaginable, and if you eat it, you might not be able to continue your trip.


4.Choose Topping
The menu has a number of recommended topping combinations with pictures. If you want to ask for a quick order, just choose what you want from the pictures and choose the amount of rice and spiciness. Alternatively, just point to the picture and ask for "all regular" and the rice will be served in a suitable quantity and spiciness for a standard meal.
Some restaurants have English menus, so you can try to order your own original curry by customising each option.

RECOMMENDED MENU
Here are some of the recommended curries listed on the menu.
Pork Cutlet Curry : 809yen
The curry rice is topped with a traditional Japanese food, tonkatsu (deep fried breaded pork cutlet). The contrast between the rich curry sauce and the crunchy texture of the pork cutlet is irresistible.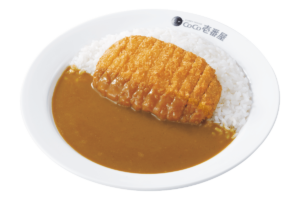 Thin-sliced Pork Shabu Curry : 776yen
One of Japanese people's favourite nabe-style dishes is shabu-shabu. This is a unique dish in which the pork is used as a topping for curry. The flavour of the tender pork is wonderfully integrated into the curry.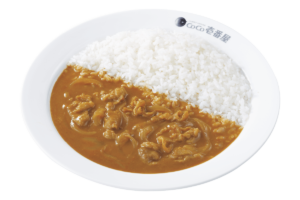 Seafood Curry : 818yen
If you like seafood, this is the one for you. It includes prawns, squid, and clams, each of which are also available as individual toppings. This is a luxurious curry that includes three kinds of popular seafoods.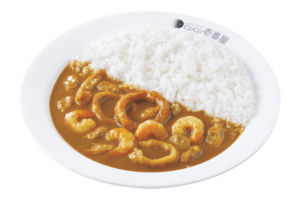 Chicken Nikomi Curry (Stewed Chicken Curry) : 757yen
The allure of curry lies not only in the sauce, but also in the taste of the ingredients that are simmered for a long time. Savour the mild texture of the chicken, simmered for a long time.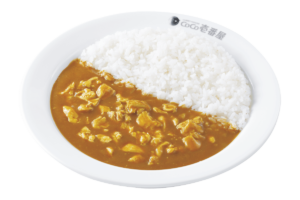 Vegetable Curry : 745yen & Yasai-Zanmai curry : 1,133yen
Curry can be enjoyed with a wide range of ingredients, and of course, it goes well with vegetables. Vegetable Curry includes potatoes, carrots, and beans, but it can also be topped with spinach and eggplant as optional extras. There is also a "Vegetable Sanmai Curry" that includes all of these ingredients. Vegetable lovers won't be able to resist.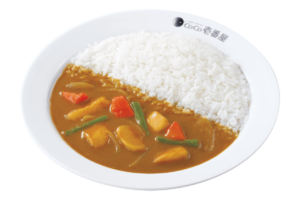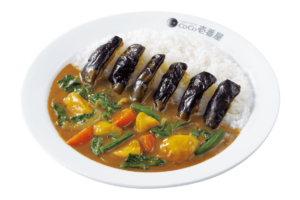 CoCoichi vegetarian curry : 530yen
This Curry does not contain animal-derived ingredients. Vegans can also enjoy this dish with no worries.
MY WORD
Toppings can also be freely combined, as explained earlier. There are also a number of other enticing toppings, not shown here, such as cheese and omelets, and sometimes you can choose from a special menu for each restaurant. It is said that there are over one million different combinations to choose from, taking into account the varying quantities and levels od spice. I hope you will visit the restaurant and find the best curry for yourself.