I'm thinking of going to Japan in April, is there any fun events at that time?
Mari
Here are some of the events you can enjoy around Tokyo in April.
The main reason for people to come to Japan in April is seeing the cherry blossoms. There are many cherry blossom-related festivals in April but there are plenty of other events as well.
In this article, we'll take a look at some of the other April events in Tokyo.
Cherry Blossom Festival
There are many cherry blossom trees in Japan. Many people come to Japan to enjoy the cherry blossoms every year.
Hanami, which refers to a picnic where people enjoy eating and drinking underneath the cherry trees, is very popular, and people line up from morning onwards to save a nice spot.
There are many cherry blossom viewing spots in Tokyo as well, so why not go to some of them?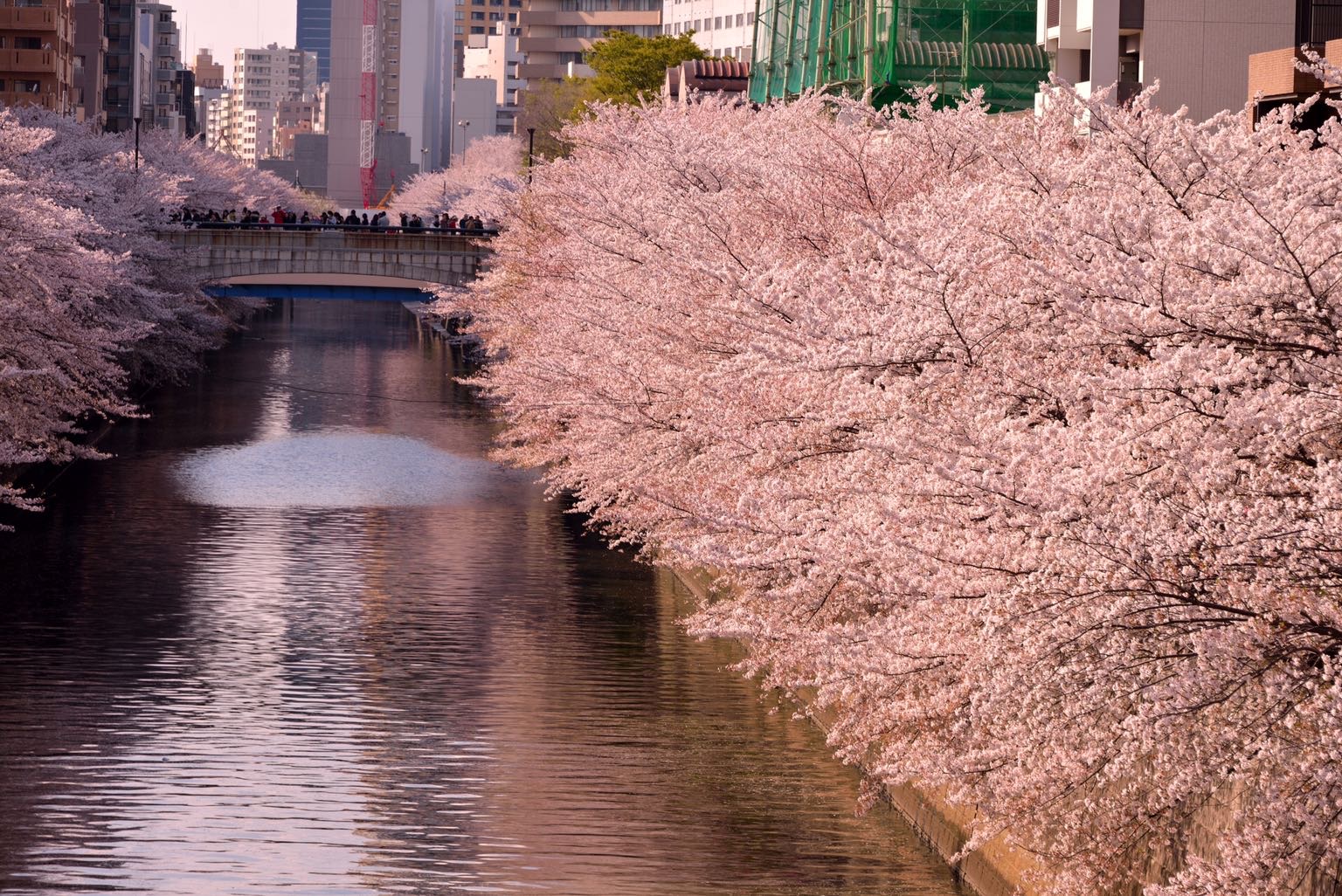 Ryogoku Nigiwai Festival
The event is held every year on the last Saturday or Sunday in April or the beginning of May.
You can enjoy Sumo and traditional Japanese culture in Ryogoku, the city of sumo. During the event there will be Chanko(the food sumo wrestlers usually eat) served by sumo wrestlers, making mochi (rice cakes) and traditional Japanese music performances.
両国賑わい祭りが終りましたが・・・ちゃんこ500円で具沢山で美味しかった♪回向院会場では気仙沼物産展・ささやかだけど応援しました。 pic.twitter.com/SJOCLXelx5

— tomo (@tomo201854) May 4, 2015
Shibuya Koen Street Flower Festival
Shibuya Koen Dori Flower Festival is a spring event to fill the streets with flowers and enjoy the scenery.
During the Golden Week holidays in early May, there will be an event to make a giant painting using tulips and workshops for children at the Zelkova tree lined streets in Yoyogi Park.
2016年5月3日(火)~5月5日(木・祝)のゴールデンウィークに、渋谷公園公園通り花の祭典『フラワーフェスティバル』が開催されました!https://t.co/zrfgYn6WaL pic.twitter.com/VcjeGfTTF5

— 渋谷コミュニティニュース(SCN) (@sibchtv) June 9, 2016
Earth Day Tokyo
Earth Day is held around the world. It is held in Tokyo on the Saturday and Sunday around April 22 at Yoyogi Park. It attracts 100,000 visitors every year. The event features an exhibition on how to eliminate the use of disposable plastic, sales of eco-friendly items, food and drink booths and so on.
It makes people think about the environment. People who are interested in Japan's eco-friendly efforts should definitely come to this event.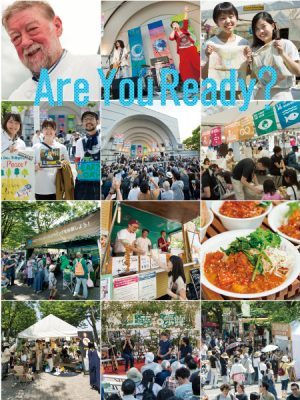 Spring Grand Festival at Meiji Shrine
The festival takes place during the Golden Week from the end of April to the beginning of May. Various traditional Japanese performances such as "Bugaku", "Noh" and "Kyogen" are performed. It is free of charge for anyone to attend.
🐰
「春・東京の催事」
春の大祭 奉祝行事
2019年4月29日~5月3日
平安装束をまとった歌人が小川のほとりに座る
明治神宮
東京都渋谷区代々木神園町1−1https://t.co/C3MUsdAY4L pic.twitter.com/BhNcuBNaNA

— ✿「風 Ⅱ」✿ (@kimagasenohaha) April 28, 2019
Nihonbashi Festival
This festival celebrates the completion of the Nihonbashi Bridge on April 3 in 1911. The Nihombashi Bridge, with its beautiful stone arches, is designated as an important cultural asset. It is the starting point for all of Japan's roads. The National Route 1, the general road connecting Tokyo and Osaka, starts in the middle of Nihonbashi. It is usually not accessible for pedestrians but during the festival it is closed for traffic and people can walk on it, so you can actually touch it during the festival period.
京橋、日本橋祭りに行きました、 pic.twitter.com/0kEeiDXdlW

— たけちゃん (@LC4gs4ODNYy9DKz) October 28, 2018
Bunkyo Azalea Festival
This festival is held at Nezu Shrine, which has been a famous azalea viewing spot for more than 300 years. It is held for one month from April to May.
About 3,000 azaleas of about 100 species can be enjoyed. You can enjoy the azalea garden, stalls and tea cakes during the festival.
The best time to enjoy azaleas is from the middle to the end of April every year.
【根津神社】
. .文京つつじまつり

ツツジは目にする機会が多く
物珍しくないかもしれませんが
これだけの知らない種類が
たくさん咲いていたら
素晴らしいとしか思えません✨ pic.twitter.com/ke7RDqhNTQ

— mari (@mariphoto16) April 21, 2019
■Official website
Tokyo Skytree Town Koinobori Festival
This festival is held at Tokyo Sky Tree Town to celebrate Children's Day (May 5) and hope for children's growth and to brighten the world. This is the only time when you can enjoy both the Sky Tree and Carp-Shaped-Streamer at the same time.
It will be held for about a month from the middle of April to the end of Golden Week.
20200504日明日は、5日の子供の日
2018年5月に撮影しました、スカイツリーとこいのぼり🎏。
近くのこいのぼりある風景。 pic.twitter.com/RYUIjYKNN3

— 上林康男(No.5)10月16日慶應義塾大学病院を退院/10月26日から撮影再開 (@8thWBdtjax8b1Oh) May 4, 2020
Flower Festival
In Showa Kinen Park, cherry blossoms, rape blossoms, tulips, poppies and other flowers are in full bloom from the end of March to the end of May.
There are 1,500 cherry trees there, and many people come to see them. There are rental bicycles and a cycling road in the park, so you can enjoy cycling in the nature.
春といえば チューリップ🌷
今年も昭和記念公園のフラワーフェスティバルに行ってきました☺︎
チューリップガーデン素敵すぎた…
来年も楽しみ📸#photography #fujifilm_xseries #東京カメラ部 #昭和記念公園 #チューリップ#写真好きな人と繫がりたい pic.twitter.com/mS9RADdJWx

— 紗未 (@szuuxlo) April 26, 2019
Shibazakura Festival
Hitsujiyama Park in Chichibu. It is not in Tokyo, but you can go there from Tokyo easily. There are 400,000 moss phlox trees planted on Moss phlox Hill, which is very beautiful. The best time to visit is from mid-April to early May. The park is usually open to the public free of charge, but during the moss phlox season only, an admission fee of 300 yen is required.
Best to start making plans for #ChausuyamaKogen's wildly popular #Shibazakura #MossPhlox Festival – from 5/5 to 6/9 – don't miss it! 💐⛰️💕 #ToyoneVillage #ShibazakuraFestival #芝桜まつり #茶臼山高原 #PinkMoss #PhloxSubulata #芝桜 #豊根村 #AichiNow https://t.co/eI7duGj9ul pic.twitter.com/zNWiUbf46V

— Aichi Now (@AichiNow_en) May 7, 2019
This is the list of events that are held in April.
April is the month of cherry blossoms, but there are also many other events in addition to cherry blossoms, so be sure to check them out.
Some of them may change their schedule or be cancelled, so check the official website before you go.